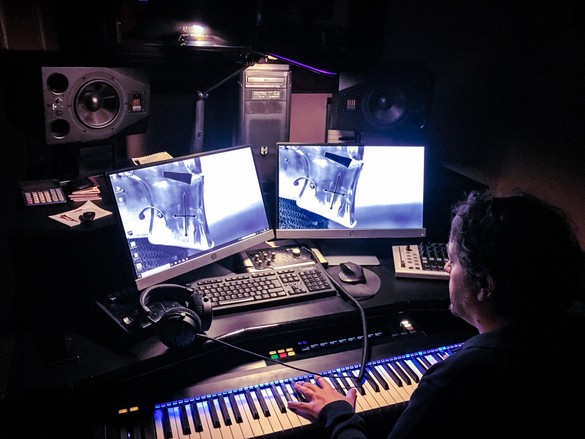 Who is Carlos Estella? Where are you from?Carlos Estella is a Spanish keyboardist and composer who creates epic tracks.While his melodic strings and orchestral pieces draw on influences like Thomas Bergensen , Hans Zimmer or Vangelis, his dramatic works blend electronic with orchestral elements, as well as beautiful choirs an uplifting vocals.
Why did you start composing music?Ten years ago I was working in a Bank but I was bored and was not happy so I decided to change completlely.Music is my passion!!
What drives you to compose music?Since I was a child I have been studing Music but never in a serius way because I studied Laws.Composing Music makes me forget everyday problems and make me so happy.I always compose during all the night…it is more inspiring when no one bothers you!
From your point of view, what is your best success as a composer?Composing music for TV shows arround the world.
What is your greatest wish as a composer ?Do not lose the inspiration! I don´t have big aspirations.
Why did you choose to create music under Creative Communs or royalty-free licenses?The customer chooses what he likes without adapting the music to the Project but 'Royalty-free' music is not the same as 'free music'. This is a common misconception on the Internet, and especially on YouTube.Simply put, it means that royalties don't have to be paid to the creator each and every time it's used (ie. free of royalties); but instead, a one-time fixed fee is paid, which is via a license purchase.
What is your motto?In music the rule is that there are no rules.Anything to say to conclude?Thanks to all BemySound! Good Job!
Thanks Carlos for this interview.
Pour découvrir les productions de Carlos Estella, rendez-vous sur sa page sur beMYsound !